Sleep Better.    Live Fuller.
Sleep apnea is a global epidemic that threatens the health and quality of life for millions. The effects of which have been linked to serious health problems, including: diabetes, stroke, heart attacks, Alzheimer's Disease, and even cancer.
WhisperSom™ is bringing a patented, non-invasive medical device through the FDA De Novo pathway. One that is designed to help individuals breathe better comfortably while they sleep by delivering personalized precision neuromodulation to reduce snoring and help maintain regular breathing.
For the millions of patients with Obstructive Sleep Apnea (OSA), current treatments are far from ideal. While oral appliances and surgery are options for treating it, the majority of those diagnosed are prescribed continuous positive airway pressure (CPAP).
Unfortunately, 34% of those prescribed the 'medical gold standard' of care, CPAP, discontinue effective treatment within a year due to discomfort, and 50% quit treatment within 2 years.†
As a result, Harvard Medical School and McKinsey & Company estimated in 2010 that untreated sleep apnea costs employers and health insurance companies up to $165 Billion each year in the U. S. alone because of transportation crashes, workplace accidents, absenteeism, and the cost of treating the onset of sicknesses and chronic diseases that have been linked to this condition. We believe this estimate is low.
This.   Must.   Change.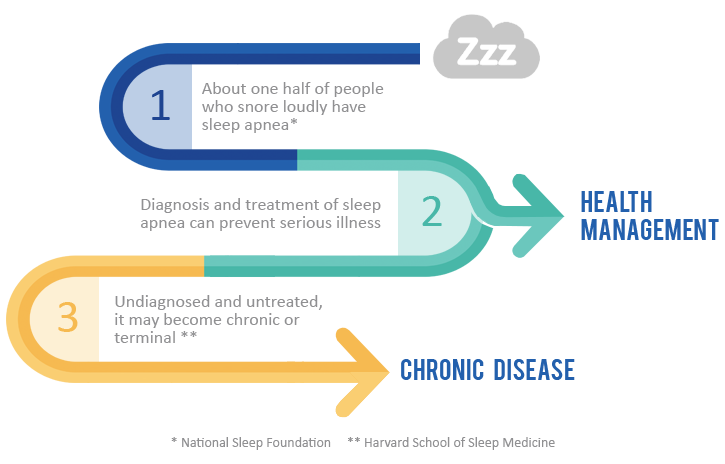 WhisperSom™ is the first to patent1, develop, and test a sleep apnea treatment device that does not require anything on the face, in the mouth or nose, no surgical implants, and no electric shocks.2
Many sleep apnea patients experience obstructive and central apneas. Our WhisperSom device will be designed to treat both obstructive and central apneic events with personalized precision acoustic neuromodulation signals, and only when these events occur. These signals will be soft as a whisper lasting merely a fraction of a second in length and quieter than a TV or sleep sound machine.
No other FDA-authorized device treats both types of apneic events without requiring a full-face mask, air hose, and ventilator—making our WhisperSom device truly innovative.
R&D testing has shown our treatment to restore natural breathing instantly and prevent heart rate spikes, harmful oxyhemoglobin desaturation, and arousals from apneas that disrupt sleep.
Each sleep session is automatically scored with the device's biosensor data recorded for visual playback. This polysomnography sleep lab study-type video recording can be easily uploaded from the device and played back, displaying a visual audit trail and the evidence underlying WhisperSom's automated scoring and effectiveness of treatment.
We have invested over five years of research and development – conducting over 125 nights of in-home testing with over 30 volunteers to produce a promising data set comprised of 2,436 apneas.
Our current device is ready for clinical trials and fast-track FDA De Novo approval, as well as Medicare and Medicaid insurance reimbursement pending medical breakthrough device designation.
WhisperSom is funded by patients and physicians and is governed by experienced healthcare industry executives determined to bridge the healthcare equity gap, and at least double the current 10% diagnosis and 5% treatment rates of sleep apnea within 5 years following FDA approval of its first treatment device.
Join us in our mission to change this condition for yourself, loved ones, and millions of others around the globe.
† Balk EM, Adam GP, Cao W, Reddy Bhuma M, Forbes S, Mehta S, Panagiotou O, D'Ambrosio C. Long-Term Health Outcomes in Obstructive Sleep Apnea: A Systematic Review of Comparative Studies Evaluating Positive Airway Pressure and Validity of Breathing Measures as Surrogate Outcomes. Project ID: SLPT0919. (Prepared by the Brown Evidence-based Practice Center under Contract No. 290-2015-00002-I/Task Order No. 75Q80119F32017.) Rockville, MD: Agency for Healthcare Research and Quality. [PDF – 2.6 MB]
1. U.S. Patent No. 11,089,994
2. The WhisperSom™ device is not commercially available at this time. It has not been cleared by the FDA and is currently undergoing development. No representations are made as to future FDA clearance, nor as to the eventual suitability of the device with respect to any medical condition. WhisperSom Corporation has made an initial application to the FDA for consideration as a designated breakthrough technology for treating all forms of sleep apnea, and data from a small number of test subjects was submitted as part of that application. After reviewing the application, the FDA requested only two additional elements of information that will require further testing. That testing process is currently underway.